Agricultural Propane Delivery in Southwest Louisiana
Running a farming operation in Louisiana takes a lot of work, plain and simple. Lake Arthur Butane & Propane understands that, and we are here to help make it easier for farmers to accomplish their goals and run their businesses with the help of dependable, efficient propane. Propane can do it all, from drying crops and heating livestock shelters to powering commercial field equipment. Contact Lake Arthur Butane & Propane at our Lake Arthur office by calling (337) 774-2277 or our Lake Charles office by calling (337) 439-4051 to learn more about agricultural propane delivery in your area.
REQUEST AGRICULTURAL PROPANE DELIVERY
Become an Agricultural Propane Customer
Need propane for your farm or agricultural business?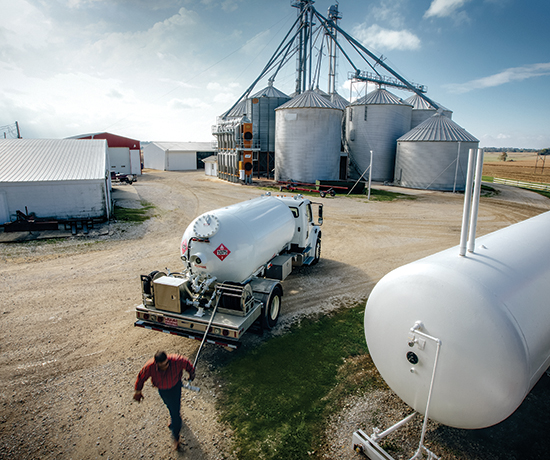 Dependable Propane Delivery for Commercial Farms
Any farming operation relies on some kind of energy supply to keep things moving. You want to make sure your energy provider is someone that you can really count on. That's where we come in. Lake Arthur Butane & Propane has been proudly serving agricultural propane customers for decades. We understand what it takes to keep your business on track, and we support those efforts with fair propane pricing, prompt deliveries, and superior customer service.
---
Agricultural Uses for Propane Gas in Louisiana
Propane can be used for so many agricultural operations, like:
Plant Nurseries & Greenhouses
Use propane-powered greenhouse or nursery heaters to help your plants stay happy and healthy. Propane heaters can help protect vegetables, flowers, and more from cold weather and allow your staff to work safely through every season.
Grain Dryers
Do you use crop drying equipment? Propane gas grain dryers are preferred to remove moisture from oats, barley, rice, corn, soybeans, and other crops because they do so more efficiently than other low-temperature drying methods.
Livestock Shelters
If your farm has chickens or other livestock, you know how important it is to keep them warm during the cold season. Propane space heaters can keep your chicken houses or livestock shelters safe and warm without breaking the bank.
If you need propane delivery for your farm or agricultural business in the greater Lake Arthur area, give us a call. We have locations in Lake Arthur and Lake Charles. You can reach the Lake Arthur office at (337) 774-2277 or the Lake Charles office at (337) 439-4051.